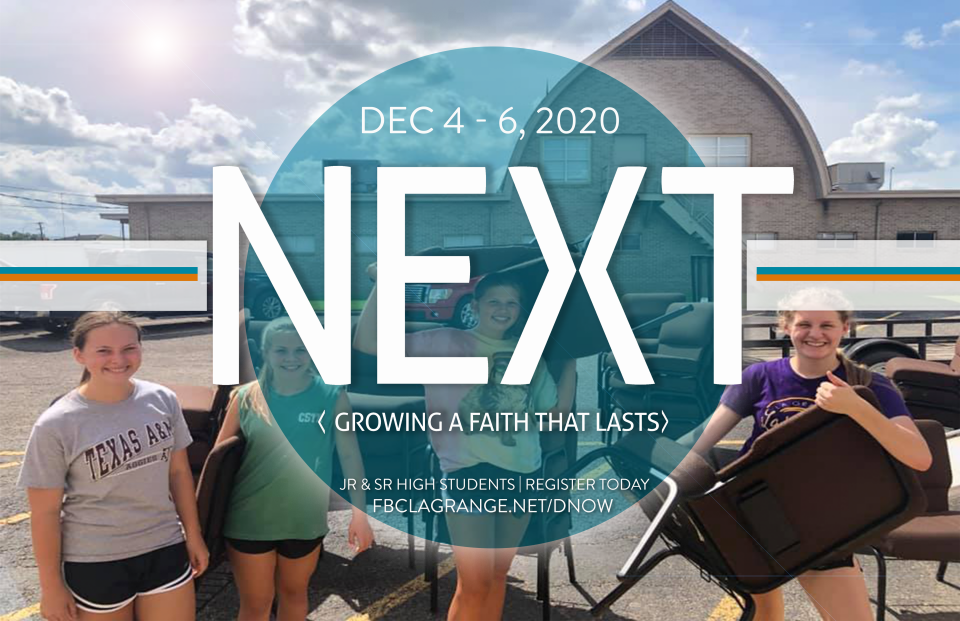 Friday, December 04, 2020, 5:45 PM - Sunday, December 06, 2020, 12:00 PM
What is a D-Now Anyway?
D-Now (Disciple Now) is an in-town weekend spiritual retreat for youth. Youth are assigned to host homes by grades and gender where they spend Friday night and Saturday night. During the event they spend time in Bible study, fellowship, and various activities at the church and at host homes.
When is the D-Now?
Friday, December 4 @ 6:00 PM – Sunday, December 6, after church
Who can go?
DNow is open to all middle school and high school students currently in 7th-12th grade.
How much does it cost?
The cost is $30 per student. (meals and t-shirt included!) You can pay in the church office or online when you register. Please make checks payable to "First Baptist Church La Grange" and mark on the memo line "DNow - <student name>"
Where will it be held?
You'll be staying in host homes based on your grade and gender. Activities will be held at host homes and at the church. (Transportation between the church and host homes is handled by the host homes, or designated drivers.)
Who are the host home hosts?
A host home is where the Bible study and fellowship primarily occurs. Students spend Friday night and Saturday night at these locations. Our host homes are families that are involved members of FBCLG and many times the hosts are parents of students in our youth group.
Depending on the number of students that signup, the exact division of the host homes varies. Typically it is divided as follows: Middle School Girls, Middle School Boys, High School Girls, and High School Boys. If group sizes grow beyond the capacity of the host home, others may be added.
Who will be leading the students?
Each group of students will have a leader that will go with them to all activities and spend the night with them at the host home. This leader, like our hosts, are carefully selected from involved members of FBCLG. These leaders will hang out with the students all weekend, and lead the students in all small group discussion times.
What's the basic schedule like?
Friday
Arrive at church (between 5:45 & & 6:00pm)
Activity
Large Group Session 1
Depart for host homes
Small group session 1
Hang out time
Lights out
Saturday
Clean up, breakfast, depart for church
Large Group Session 2
Mission Project Prep
Head to Mission Projects in LG
Lunch & Small Group Session 2
Head back to church
Activity
Return to church
Tournament
Large Group Session 3
Head to host home
Free Time at host home
Small Group Session 3
Activity
Sunday
Clean up, breakfast, depart for church (wearing T-shirt)
Growth Group discussion
Church together
Gather Belongings & Head Home
What Do I Bring?
Clothes for mission projects (closed-toe shoes, clothes you might get a little dirty)
SNACKS! We will be providing meals, soft drinks, water, and some snacks, but please bring a shareable snack and a sharable drink for your host home.
Spending Money (just in case…we recommend $20).
Registration Now Open